Home

Credentials

Training Programs

Questions & Answers

Customers Comments

Pictures

Pictures 2

Pictures 3

Pictures 4

Available Dogs

Locations

Contact Us

Dog Barking?
Jumping on People?
Need Housebreaking Help?
Can't get your dog to obey?
Call or email us for help!!!
Top Dog K-9 Academy

Houston, TX
Phone 713-320-9511
LaVergne, TN
Phone 713-320-9511

What our customers are saying!
"The one week Oslo spent with Shawn was more rewarding than 6 weeks spent with a trainer that came to us once a week for twice the price! "
S. Welch - Houston
"Money well spent. The kids have played with Daisy more tonight, than in the last 3 months. Job well done.
M, Ashley - Houston
Linda & Michael were so courteous, and took very good care ofDre'. Whenever I called to check on him, I felt as if they genuinely cared. I would highly recommend them to anyone. Our home will now be a much more peaceful place"
A.Johnson - Houston
"Training was great, and I look forward to future training next generation."
T. Haggerty - Channelview, Tx.
I was referred to Top Dog "from my vet & Erica who works there couldn't say enough wonderful things" about Top Dog.
L. DeRoberts - Houston
"I am so impressed!! I love you guys!!"
K. Hanchett - Spring, Tx.
"Our dog was aggressive and unruly. We received a totally different dog. I would recommend this program to anyone. <
P. Carson - Spring
"Very much" satisfied. "All neighbors were very impressed also"
N. Grismore - Cypress
"Since Sadee was so hyperactive, I couldn't believe how perfect she was when she came home. Wonderful results. Thanks Mike!
F. Brogdon - Houston
"At first I didn't think Michael would have a chance with Callie. I was wrong. I didn't recognize Callie when he brought her back. She is a very well mannered dog. I didn't think anyone could control her. I ate my words.
C. Ponzica - Houston
"I was satisfied w/ the performance and training."
J.Do - Houston
"I was so amazed. Elliott has never been as enjoyable."
B. Wheeler - Houston
"There is such a difference in our dog for the good."
K. Hilton - Deer Park
"I was really impressed with the way the dogs were treated with such love and care."
T. Hutto - Liberty
Quality of work was "excellent", and the trainer was "very" courteous.
B. Stice - Cypress
"I have been impressed with Michael & his family not only as trainers, but also quality good people in general."
D. Hathom - Channel View
"We really appreciate the fact that they picked up Sparky with such short notice. I would give them the highest possible rating."
A.Ellis - Houston
"Great job, well worth expense."
A. Kinser - Pasadena
Quality of work was "excellent -I was Shocked".
M. Monroe - Houston
"Probably the best thing we could have done for our dog & family."
S. Sullivan - Missouri City
"Very satisfied, very courteous people."
K. Rieth - Houston
"Very pleased. Professional as well as courteous. Listened to problems & helped you correct them. Would recommend to any one with a dog !!"
A. Wanson - Houston
I would "most definitely" recommend Top Dog.
R. Pina - Houston
"I am completely amazed - my puppy is calm."
P. Manuell - Cypress
Quality of work was "excellent". "I was shocked."
D. Harrell - Austin
"Very good job. We really appreciate your kindness and we thank you for your hard work with Skeet."
E.Jones - Houston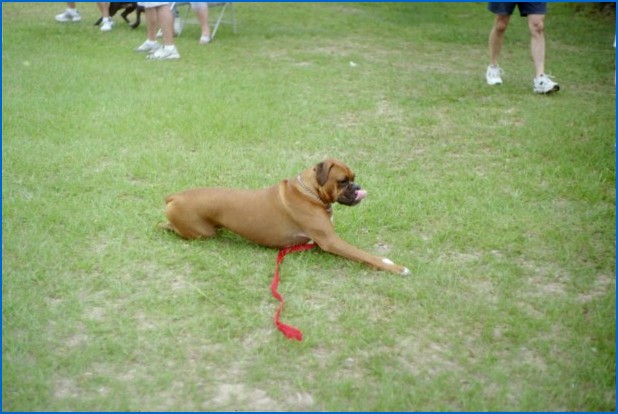 home | credentials | programs | q & a | comments | cgc | available dogs | contact us
Copyright ©2009 TOP DOG K9 ACADEMY, All Rights Reserved.